Electric Vehicles
At Steve Schmitt Highland
Find Your Ideal Electric Vehicle
---
Here at Steve Schmitt Highland, we are excited for the electric future of the automobile industry. If you want to learn more about how to get an electric vehicle, then please visit our location in Highland or contact us as soon as possible.
Clean Vehicle Tax Credits for 2023 and Newer
If you are thinking of going electric, 2023 is a great year to transition. With the current Clean Vehicle Tax Credit, you can benefit from federal tax incentives to help make your EV even more affordable. Certain electric or fuel-cell vehicles qualify for up to $7,500 in tax credits to help offset the price of a new electric vehicle and make electric technology accessible to more drivers. Find out more from the IRS website and speak to our finance specialists about how to qualify.
Enjoy the Advantages of an Electric Vehicle
---
Here at Steve Schmitt Highland, we are proud to endorse the electric vehicle revolution that is taking place in the automobile industry right now. As a dealer of Chevy, Buick, and GMC vehicles, we believe that quality is everything, and that extends to our growing supply of electric vehicles.
If you want to know more about the benefits of owning an electric vehicle, you've come to the right place. Read below to learn more about why owning a vehicle may be right for you, then come to Steve Schmitt Highland to check out the electric vehicles for sale in our inventory.
Embrace the EV Future with Electric Models from our Dealership
---
Electric vehicles will soon reshape your driving lifestyle around Highland. Not only will they make your commute simpler, EVs will help out the environment. Our dealership in Highland cares about being eco-conscious. After all, we use our new electric Kia Niro EV every day to travel back and forth between all three Steve Schmitt dealerships. EVs are setting the stage for the future, which is why Steve Schmitt wants Highland shoppers to know the ins and outs of vehicle electrification.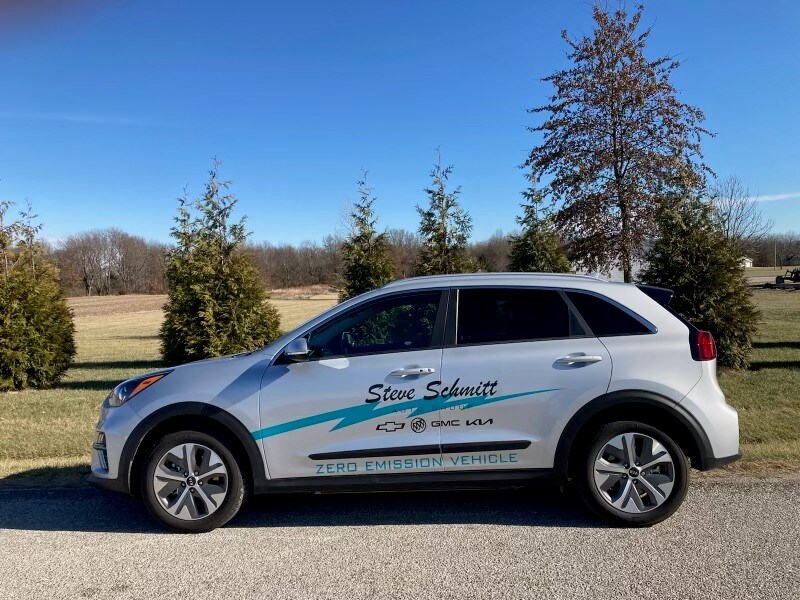 The Benefits of Owning an Electric Vehicle
---
Why go electric? Here are some of the benefits a driver will experience when they opt for an electric vehicle.
Lower Refueling Costs
---
With an electric vehicle, you won't have to worry about refueling with gasoline like a conventional vehicle. Instead, you will refuel your vehicle by charging it, either at home or by visiting one of the thousands of available public charging stations. For many drivers, charging their electric vehicle will be more affordable than filling up a conventional vehicle at a gas station.
Environmental Impact
---
It's no secret that gas-powered cars have a negative impact on the environment. Since many of us in the Highland area need cars to get around, it's nice to know that electric vehicles offer an alternative for drivers looking to cut down on their impact on the environment. With an electric vehicle, you can expect to emit zero tailpipe emissions as you drive to and from your destinations.
Ease of Charging
---
With an electric vehicle for sale at Steve Schmitt Highland, you can expect charging to be surprisingly easy. With the affordability of electric vehicle chargers, you can easily obtain a charger for at-home charging, giving you the ability to charge overnight or quickly before last-minute errands. There are also thousands of public charging stations available across the country, so you can charge your electric vehicle quickly at your workplace or on the go as you head to your favorite destinations around town.
Electric Vehicle Charging FAQs

---
How Much is an Electrical Vehicle Charger?
---
For many drivers in the Litchfield area, a top concern for owning an electric vehicle is the affordability of a high-quality electric vehicle charger. However, the price for electric vehicle chargers is more affordable now than ever before - and the prices just keep on dropping. Many drivers will love the speed of a 240-volt charger, which will only cost between $500 to $1,000.
How Long Does it Take to Charge a Vehicle?
---
For your electric vehicle, the time to charge will vary depending on a variety of factors, including its size, your charger type, and the vehicle's battery type. For example, with the upcoming 2022 Chevrolet Bolt EUV, you can charge this capable electric vehicle in just seven hours with a 240-volt charger. That's over 250 miles of driving on a full charge by just plugging in this vehicle overnight.
Where Can I Charge My Electric Vehicle in Public?
---
Since electric vehicles have grown more and more popular, the public infrastructure for charging stations has grown right alongside it. When you drive around the Highland area, you will likely notice plenty of public charging stations popping up on your route to work or as you're running errands around town. At these public charging stations, you can quickly charge your electric vehicle as you're on the road. Even if you're outside the Highland area, you can access this vast, ever-growing network of public charging stations.
Electric Vehicle Inventory at Steve Schmitt Highland
When local drivers visit Steve Schmitt Highland, you can expect to find plenty of electric vehicles, with more on the way in the coming years. There are plenty of electric vehicles available now and others that are coming soon, including the following: Chevy Bolt, Chevy Bolt EUV, GMC Hummer Electric SUV, and GMC Hummer Electric Supertruck.
Find Our More About Going Electric at Steve Schmitt, Inc.
Do you have questions about GM electric vehicles? Contact our team to get the scoop on the newest incoming EV models and to get started on a reservation or finance application.